There are many reasons to start a seed library in your community. The specific reasons behind starting your community's seed library may help inform your choice in finding a place to store, inventory, and disperse seeds. Work with your community to find the best model to implement.
In Spokane County, many groups came together to start this library. Second Harvest, the Spokane Public Library and the Master Gardeners were part of the process. Second Harvest asked the Spokane Public Library to help with the seed library project and they were ecstatic to have new resources at the library for public use. Once obtaining the support of the library, seed donations were requested to start the first round of the seeds in the seed library. Physically placing the seed library at the Spokane Public library is useful because librarians cataloged the seeds for the public use and to reference the inventory for seed availability.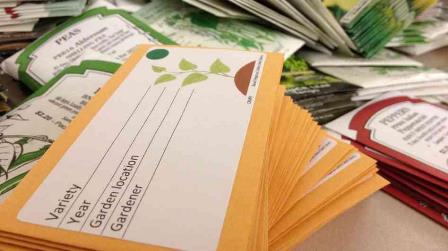 The launch of the seed library presented many opportunities to rally community involvement. Teachers from the Master Gardeners program taught classes at the library to people interested in saving their own seeds. These classes were a great way to spread the word about the seed library as well as teach the public more about saving seeds and gardening. A variety of educational avenues have opened up with the new seed library system in place.
Once the seeds were received, packets to label and date the seeds were made. Seeds were then put away in a cart so they will be available for checkout in the spring. People who check out the seeds will then save their seeds once the season is over. After several years of community gardeners saving seeds, the seed library will have cultivated the best seeds for the Spokane area's climate.
The small effort it took Second Harvest and the Spokane Public Library to get this library started opened up many doors to informing people about seeds saving, where food comes from and gardening.