Society of St. Andrew, Georgia Gleaning Network opened in Tifton in 2007. Tifton is a southwest Georgia town with a population of about 20,000 citizens but rich with crop farmers and central to rural Georgia. Society of St. Andrew (SoSA) covers a gleaning operation for the state of Georgia, overseen by the Program Coordinator. The state currently has one Hunger Advocate based in Cleveland, Georgia, covering the mountain region in North Georgia. The focus area of SoSA's work, south rural Georgia, presents several challenges including transportation for volunteers, recipients, and aging populations, a lack of economic development in small communities, limited access to the internet, lack of access to fresh produce, and racially divided communities. Georgia ranks ninth in the nation when it comes to senior food insecurity, and the overall food insecurity for the state was 15.1 percent in 2016. As of November 2017, the Georgia Gleaning Network has collected 1.3 million pounds of produce that have been distributed to community agencies throughout the state.
Program Description
The Society of St. Andrew (SoSA) is a domestic faith-based non-profit, focused on hunger-relief and food advocacy, with the Georgia Branch located in Tifton, Georgia. SoSA operates a volunteer-driven Gleaning Network in Georgia that includes volunteers who save fresh produce every year and use it to feed hungry people all across the state. The Americorps VISTA works alongside the Program Coordinator in Tifton and state director in Atlanta, gathering best practices of gleaning to expand the gleaning network to other regions in South Georgia. Through the Georgia Gleaning Network, we coordinate volunteers in many areas of the state who enter fields after farmers have finished harvesting and simply pick up the tons of good produce left behind. Our volunteers represent groups from various church denominations, synagogues, youth groups, other civic organizations, individuals, and inner-city residents.
Background of Operations
Society of St. Andrew's success is built on strong relationships with local influencers, individuals, communities and civic organizations. The collection of these partnerships with Society of St. Andrew is called the Gleaning Network. Given the Gleaning Network's importance, it's necessary to determine the key factors for sustainable growth. The most influential factors being, whether it precludes or includes the potential partner, are opportunity, distribution/ logistical barriers and the area's rate of food insecurity in that community. The types of relationships integral to operations will be addresses below and include Volunteer, Farmers, and Agencies. Society of St. Andrew cultivates will be addressed in the section Gleaning Model.
Gleaning Network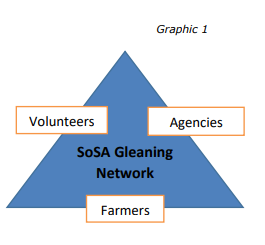 The three sides of a triangle in Graphic 1 create the gleaning model for SoSA. Each one is important to the process and SoSA's mission could not be done without all three. The key groups are defined as Volunteers, Agencies, and Farmers. Agencies SoSAs distribute to, Farmers or growers that donate Society of St. Andrew/Rotary First Harvest Resource Guide 4 produce and trained glean teams volunteers donate their time too. Without any one of these three, the structure would collapse. The Gleaning Model (graphic 1) is the visual depiction of Society of St. Andrew's Gleaning Network. As mentioned in the previous section, the relationships are key in the organization's success so SOSA has created an efficient and effective information database to determine success. The database tracks many metrics but most importantly pounds donated by growers/producers, community service hours by a group or individual volunteer, and pounds distributed to receiving agencies.