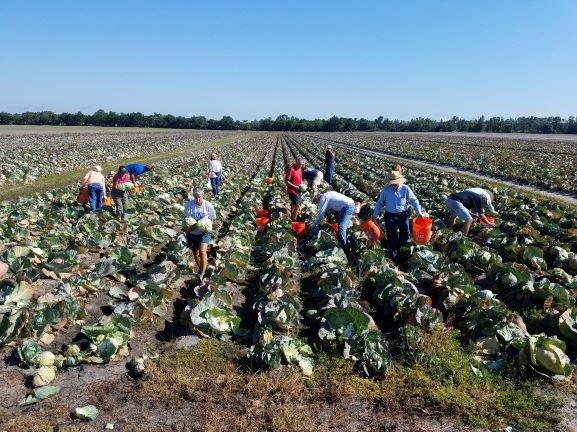 Row crops are the most common growing format found at commercial farms. Plants like corn or soybeans are grown in lines (or rows) in multiple fields side by side. These rows are spaced out for the use of farming equipment such as tractors. Farms can have several hazards for volunteers, including farming equipment and wildlife. As guests at the farm where customers typically don't go, there are rules to follow when in the field:
· No pets are allowed
· Volunteers must stay in the designated area assigned by the gleaning coordinator
· Bathroom use in the fields is prohibited. Hands must be washed prior to returning. Wastewater is to be collected.
· Verify with the farmer the proper paths to take to the field or if special clothing is necessary.
· Leave no trace. All trash is to be collected.
· Verify any containers or transportation beds have been cleaned prior to produce contact
· Clean tools before and after gleaning, collect wastewater if washing on the farm.
These rules are included in pre-glean procedures, along with making sure all volunteers have signed liability waivers, are wearing the proper clothes to pick in, have sun protection, hydration, and are in good health. To protect from the Florida sun and heat, gleans are typically held between 8:30am-12:00pm. In the fields there is no shade, so emphasizing sun protection and hydration keeps everyone comfortable. SoSA staff also bring additional sunscreen, bug spray, and water to supplement for volunteers. Staff are responsible for gleaning tools, which vary based on produce. For example, cabbage and Brussel sprouts require curved or serrated knives to cut stems. Research what tools are needed to harvest the crops being donated, or ask the farmer for any tips.
Keeping a portable bin with all materials needed for gleaning, as well as a first-aid kit and organization brochures and cards assists in efficiency and organization. Gleaning supplies should be stored in the SoSA staff vehicle at the field for easy access. A truck and/or trailer should be used to lead the volunteers through the field on designated field roads. If there is no room for a truck, have volunteers place full bins/boxes/buckets at the end of a row for the truck to pick up. It is essential for the group to record all pounds gleaned. Farmers will need to know what kind of produce was collected and how much for tax purposes. Keep track of different produce types separately. If the donations are separated for several agencies, track how many pounds went to each.
Measuring produce can be done in three ways:
· Donate all gathered produce to a food bank. They typically have scales and give you an accurate weight upon receiving the donation.
· Bring a scale to the field. This can be a digital bathroom scale that shows pounds to the .1 pound. Have volunteers pick produce into the same type of bin, box, or bucket and keep track of how many are collected. Make an estimate of the weight: the number of bins/boxes/buckets collected X the weight of a full bins/boxes/buckets. You can always weigh each bin, box, or bucket individually and add it all up at the end of the event.
· Use a box that is appropriate for the type of produce you are collecting and estimate how many boxes would fit into the bed of a truck or a trailer. This can be done by simple math: how many boxes across (width) X how many boxes deep (length) X how many boxes high (height). Based on how full the bed or trailer is with produce, you can estimate the pounds.